Comment, Comics and the Contrary. Contact: aj_bartlett1977*at*yahoo*dot*co*dot*uk
The July issue of Comics International (#186) has a brief review of Tales of the Contrary. It also carries the full page collective advertisement on behalf of a group of British small-press comic book creators with the strap-line 'Independent Comics for Independent Minds'*.
"This A4 sci-fi comic, with 20 pages of strip and a six page text story, displays a penchant for the twist ending and poetic justice. The tales of killing, cloning and interrogation are written as if by someone who takes life very seriously. It's impressively drawn by Bolt-01, with grey tones by Richmond Clements and backgrounds that convincingly evoke the worlds in which the stories penned by Andrew Bartlett are set." 7/10.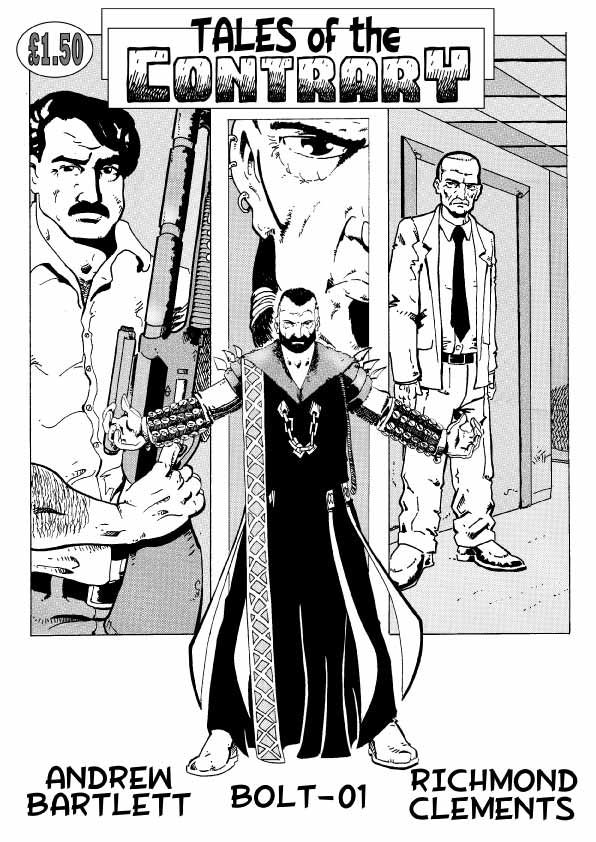 You can buy Tales of the Contrary for £2 including p&p. E-mail me at aj_bartlett1977(at)yahoo(dot)co(dot)uk for more details. Payment can be made by PayPal (inc. credit card payments) or by cheque.
Empirical Majesty – Chapter One is also available for 75p (or £2.50 together with Tales of the Contrary) including p&p.
Buy Tales of the Contrary and Empirical Majesty
* These comics are:
Futurequake
Doomlord
Bulldog
The Girly Comic
Violent
Omnivistascope
Solar Wind
The End is Nigh
Pony School Assassin (no website but you can e-mail PonySchool(at)gmail(dot)com for more details)
Mothman About the House
Starscape