Comment, Comics and the Contrary. Contact: aj_bartlett1977*at*yahoo*dot*co*dot*uk
You can now buy both of these comics for £2.50 (inc. postage) using PayPal. Don't click on the donate button above – unless you want to donate some money to me – but e-mail me at aj_bartlett1977(at)yahoo(dot)co(dot)uk with your order and address and I will send you a PayPal invoice.
Tales of the Contrary
Five dark stories about power. Hard Hunter, Soft Heart (5 pages), Hereditary Genius (9 pages), Johnny Upright (5 pages), The Captain (6 page illustrated text story) and A Complete Revolution (1 page). All the art was provided by Dave Evans – the hardest working artist in British small-press comics – with Richmond Clements providing the greyscale tones. 26 pages of story, 28 pages in all – b/w A4 size – cover price £1.50.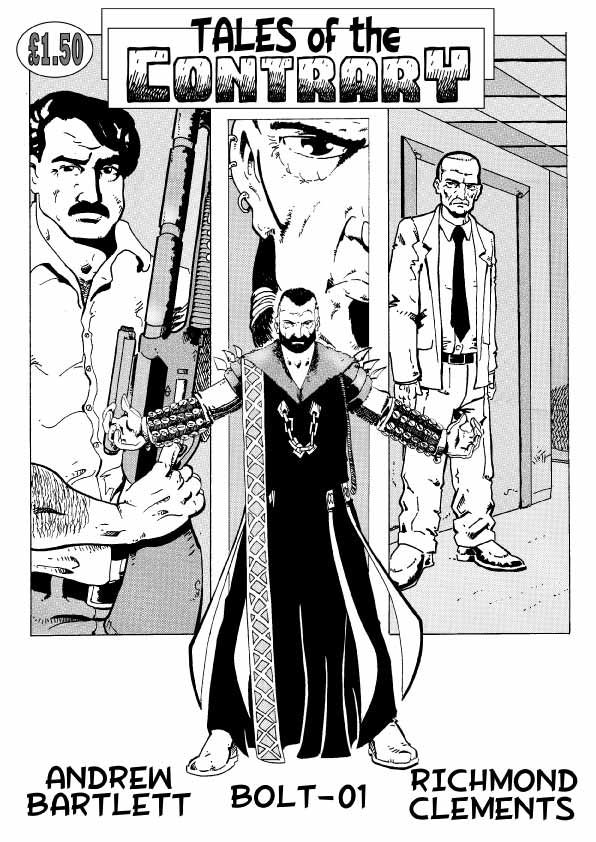 Empirical Majesty #1
The first chapter in an alternative history adventure. Professor (and spy) Kelvin Vijay Brooke uncovers dark forces at work behind the throne of the Empirical Majesty is a post-Scientific Revolution – where the revolution aspect was taken literally – Britain. Art by Eleonora Kortsarz. Chapter two coming soon! 12 pages of story, 16 pages in all – b/w A5 size with card cover – cover price 50p.