Comment, Comics and the Contrary. Contact: aj_bartlett1977*at*yahoo*dot*co*dot*uk
The Daily Express is… fascinating. If you want to know the particular brand of xenophobia currently animating the neurones of little, closed minds, scan the front page. If you do not have the time, or the hard headed detachment required,
Five Chinese Crackers
performs an estimable survey of the Express and her ideological sister rags.
And hard headed detachment is something I am lacking. Faced with page after page, in both newsprint and pixels, of racism and xenophobia, I feel like giving up the battle. So kudos to those who keep on exposing the lies and the half-truths that are finding fertile fields in imaginations that range from the far-right to the decent left.
I can, however, still be shocked by the absurdity of some of the headlines that the Express editors deem to be the most important news items of the day. Normally, these concern the threat that one or another group of foreigners – or sometimes British 'aliens' – pose to the Bulldog Nation. Lately the editor of the Express has directed his readers' ire towards inanimate objects. 'Foreign' objects, of course.
On November the 2nd the Express front page was wailing at the disrespect shown to our glorious war dead by a 'Muslim scarf'. The headline was:
"She [Camilla] IS wearing one [a poppy] but you can't see it under Muslim scarf"
And today, on November the 16th, the Express front page played the role of doom monger. Foreign bodies were bringing disease into Britain.
Yes, we have heard that story before.
But this time it was not 'immigrants', but eggs. The headline read:
"Danger in millions of eggs from abroad"
The self styled
"World's Greatest Newspaper"
is beginning to read like the sort of parody published in Viz.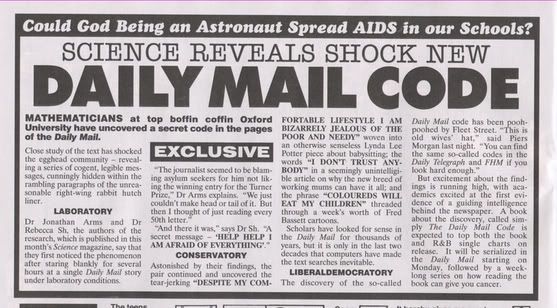 I know that this is a spoof of the Daily Mail. The Mail is but a Siamese twin of the Express. And the two are joined at the head, and the gut.

I think it might be a good thing that their anti-foreign rants have become so unhinged. Perhaps their purchase on the British imagination might loosen, if only a little.