Comment, Comics and the Contrary. Contact: aj_bartlett1977*at*yahoo*dot*co*dot*uk
Watch more teevee! Or at least, watch these television programmes. It is not all mind rot.
BBC2 – 7pm The Culture Show.
Includes a very rare interview with Alan Moore, my personal cultural hero and writer of works such as Watchmen and V for Vendetta, and my favourite graphic novel (though he disdains the abasement before a cultural heirachy that is implicit in the appropriation of the word 'novel') From Hell. Jonathan Ross and Iain Sinclair are among those discussing his work.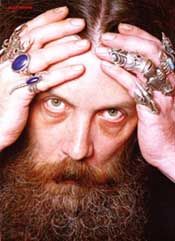 Channel 4 – 9pm The Road to Guantanamo.
A factual drama directed by the award-winning Michael Winterbottom. Combining interviews and dramatised footage, The Road to Guantanamo tells the story of four British teenagers who were to be branded the 'Tipton Taliban', three of whom were imprisoned in Guantanamo Bay. Returned to the UK amid much hysteria, no evidence has been presented that any of these men were in any way connected with al Qaeda. Without acknowledging the irony, the British police detained and questioned the actors who had played the 'Tipton Taliban' on their return from the Berlin Film Festival where they had won the Silver Bear.