Comment, Comics and the Contrary. Contact: aj_bartlett1977*at*yahoo*dot*co*dot*uk
Darren Cullen, a final year student at the Glasgow School of Art, has managed, after some wrangling, to get his project on display.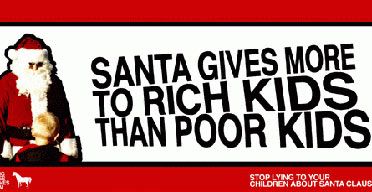 The Guardian
quotes Margaret Morrisey, of the national Parent Teachers Association; "I think it's fair to say Christmas has become too commercialised. But there's no harm in a little bit of magic. For people to become artists they have to understand fantasy and magic. To be so cruel as to do something like that is not necessary. My seven-year-old granddaughter totally believes in Father Christmas. If she saw that billboard she would really question it and I would never be able to make her believe again. We know they won't believe forever, but it's nice to pretend."
But Cullen has the perfect reply, arguing that "children have no intellectual self-defence against marketing and advertising and in that way they are easy targets." In other words, if his posters really do have any effect on children, then we should question the role played by far more pervasive and well-targeted advertising and marketing in children's lives.
Cullen worked in advertising for four years.